Drexel Town Square
The Drexel Town Square property at the intersection of W. Drexel and S. Howell avenues in Oak Creek, Wis., is owned by One West Drexel LLC, a Wispark subsidiary, and is being developed through a public/private partnership of the City of Oak Creek and Wispark, the master developer.
History
Before it was Drexel Town Square, the site was a manufacturing and technology development center, built in 1957 by Delco Electronics. Through the years and a number of corporate changes, it became AC Spark Plug, the AC Electronics Division of General Motors and, finally, Delphi Electronics & Safety, before the plant was closed in 2008. Part of the plant was demolished to make room for a Woodman's grocery store in 2007. The rest was demolished and had been vacant for three years before the 85-acre property was acquired in August of 2011 by Wispark, a proven developer with years of experience in transforming open spaces into business parks.
Vision becomes reality
The vision for Drexel Town Square, shared in 2011 by Wispark LLC and Oak Creek community leaders, is now a reality. Drexel Town Square is a place to call home, a place to shop and dine, a place to conduct city business, a place to read and learn, and a place to enjoy nature. And more.
Today, Drexel Town Square defines mixed-use development and has become a model for other cities to emulate. In April 2016, the Milwaukee Business Journal presented its Vision Award to Wispark and the City of Oak Creek, recognizing the success of Drexel Town Square.
Among the most outstanding features of the site is the Civic Center, featuring the new City Hall and Oak Creek Public Library, that also brought a Main Street to the City, which it lacked.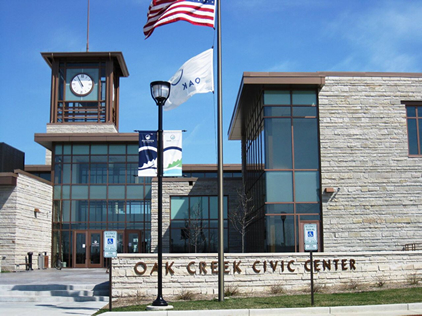 Main Street includes two luxury apartment complexes, Emerald Row and Forge & Flare, which will feature ground-level retail establishments and restaurants with well-appointed living spaces on the upper floors.
"We've created a downtown environment with a walkable neighborhood," says Jerry Franke, Wispark president. "There are multiple destinations within Drexel Town Square that can be accessed on foot," he adds.
In addition to residential spaces, Drexel Town Square includes retail, restaurants, commercial enterprises, a bank, a hotel and more.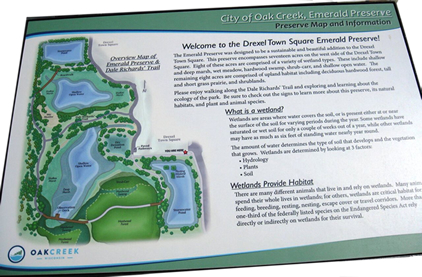 On the western border of the site, a 17-acre public green space wetlands park –- Emerald Preserve -- awaits visitors. With a 0.7-mile paved walking path and boardwalks over two retention ponds, the park is a quiet respite and open for use by all. Visitors to the wetlands area can view the intricacies of the best practices for storm water management. Importantly, the wetlands area and its plantings are intended to provide wildlife habitat for many species including bees ("pollinators") as well as the Monarch caterpillar that transforms into a beautiful butterfly.
Other entities that are part of the development team include Zilber Property Group, Ramboll Environ, GRAEF, Rinka Chung Architects, KM Development Corp. and Mid-America Real Estate Group.